Image of the Japanese title of the meeting
The critical details of the new Pharmaceuticals and Medical Device Organization (PMDO) slated to replace the current regulatory structures of Japan on April 1, 2004 discussed in details, GCP violations and more...
- View the full program
For the first time in English within a week a full report on the quintessence of the meetings is now more accessible than ever...
Every year the regulatory and pharmaceutical authorities in Japan are organizing 7 periodic meetings on topics such as new drug approvals, ICH, safety and QA of the pharmaceuticals and medical devices.
Program
1. Current status of pharma affairs
2. New Drug Approvals Review
3. Biostatistics
4. GCP Compliance
The 18th Information Meeting comes in a wake of a major overhaul of the present pharmaceutical administration, whereas the existing three disparate bodies will form the new PMDO organization.
The presenters - all officials from the Evaluation and Licensing Division of PFSB, the PMDEC and NIHS provided concise and most update views on the future PMDO, and also covered the increased role of the biostatistics and most frequent violations of the GCP.
"Since the first meeting in 1999, those regular briefing sessions are serving as a major channel for prompt clarification on "difficult" issues and coming reorganizations within the pharmaceutical administration"
- Regulatory Manager, large biotech company
AVAILABLE IN THE JKS DOCUMENT STORE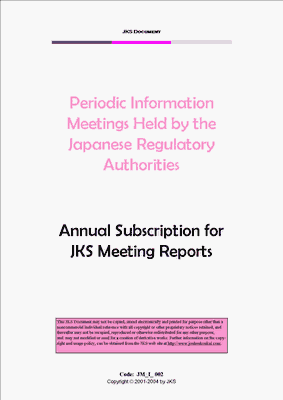 ANNUAL SUBSCRIPTION
Due to a considerable interest along with the JKS documents covering individual meetings, JKS now offer the option to purchase an annual subscription.
Seven meetings are expected to be held in 2004 with the following main topics:
New Drug Information Meetings - 4 (quarterly)
ICH topics - 1
Safety issues - 1
QA and manufacturing - 1
Inquire for details here.