EISAI TO ACQUIRE MGI PHARMA FOR US$ 3.9 billion IN CASH
Post-announcement comments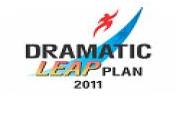 At the press conference held on Monday, December 10, 2007, the President & CEO of Eisai Haruo Naito vigorously defended the deal. In 2006 Eisai launched a company-wide plan named nothing less than "Dramatic Leap Plan" to expand its business in United States, Europe and other parts of Asia, especially in the field of cancer treatment, by the end of fiscal year 2011. The execution of the plan led to a series acquisition culminating with the takeover of MGI.
The MGI made itself a ready target. On November 29, 2007 it stated with press release that its board of directors has authorized management to evaluate possible strategic alternatives. Founded in 1979 and having a workforce of some 540, MGI Pharma posted a net loss of $40.2 million (¥4.5 billion) on sales of $342.8 million (¥38.3 billion) in 2006. According to the MGI Chief Executive the company has spoken with "many of the leading companies in the pharmaceutical and biotechnology industry" before agreeing to the Eisai buyout, thus hinting that the MGI has heard only from few serious suitors.
Yet for Eisai, this is important milestone in the "Dramatic Leap Plan" - the purchase of MGI marks its third major acquisition in the oncology area in recent years. Eisai bought Morphotek Inc. of the U.S. in April and four cancer drugs from Ligand Pharmaceuticals Inc. last year. Eisai - best known for the anti-Alzheimer drug Aricept
(details in JAD Databases)
has determined the oncology as equally important development area.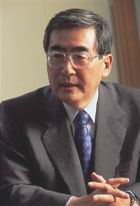 The President Naito (pictured at left) made no secret that purchase of MGI is expected to soften the financial impact of patent expiration of Aricept in USA in 2010. He commented that "Eisai has enormous respect for MGI Pharma's products, pipeline and people. We expect this transaction to allow Eisai to significantly strengthen its oncology business and increase the likelihood of achieving our current strategic plan targets and our future revenue and earnings growth." As practical examples, two MGI products were shown to have attracted Eisai - antiemetic Aloxi and marrow heteroplasia syndrome therapeutic drug Dacogen, as growth up to 35% is expected following the acquisition.
Along with business, the synergy in the research and development is seen as even better. "There are topics of research and areas of technology what our company does not have and is not expecting to come, so we could foresee a synergy effect." The priority areas mentioned are low-molecular drugs, immunotherapy, induction of cytodifferentiation, DNA vaccines and various supportive therapies for cancer.
Immediately the announcement of the Eisai's takeover of MGI, it was reported (Nihon Keizai Shimbun, December 12, 2007 edition) that "Some critics, such as an official at a major mutual fund, argue that Eisai's price tag of 430 billion yen or so is too high". In fact, the acquisition of MGI is financially dramatic:
- the largest foreign acquisition of Japanese company for 2007
- the largest pharma acquisition of Japanese company
- the third foreign acquisition for Eisai within 15 months
WSJ was critical too as comments posted at the Health Blog site read: Consider the deal a parachute for the company to wear when it falls off the patent cliff in 2010, as its biggest selling drug, the Alzheimer's medicine Aricept, loses patent protection...The Eisai deal comes at a 39% premium to where the stock was trading before MGI made that announcement. And the purchase price is 23% above the stock's Friday close.
If successful, the acquisition bid is scheduled for closing in early 2008.
Details of the original announcement below
---
Tokyo, Japan, and Bloomington, MN, December 10, 2007
- Eisai Co., Ltd. (TSE: 4523.JP) ("Eisai")

, a research-based human health care (hhc) company that focuses on neurology, gastrointestinal disorders, oncology and critical care, and MGI PHARMA, Inc. (NASDAQ: MOGN) ("MGI PHARMA"), an oncology and acute care focused biopharmaceutical company, today announced that they have entered into a definitive merger agreement under which Eisai would acquire all of the outstanding shares of MGI PHARMA for US$ 41.00 per share in an all-cash transaction, for a total consideration of approximately $3.9 billion.
The merger agreement has been unanimously approved by the MGI PHARMA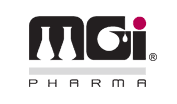 Board of Directors. The acquisition is expected to occur by means of a tender offer followed by a cash merger, is subject to customary closing conditions and regulatory approvals, and is expected to be completed during the first quarter of 2008.
Eisai expects MGI PHARMA's marketed and pipeline products in oncology and acute care, as well as its R&D and commercial capabilities, including field sales specialists, together with Eisai's existing oncology products, global infrastructure and R&D capabilities, will create a base for continued sales growth, pipeline enhancement and the opportunity for synergies. Eisai expects that this transaction will enable it to grow further in the U.S. market and strengthen its already-focused oncology business platform. Following the completion of the transaction, Eisai anticipates that the transaction will be accretive to its cash EPS (excluding goodwill amortization) in fiscal year 2008 and GAAP EPS in fiscal 2009. "The Board of Directors of MGI PHARMA, working with our legal and financial advisors, has been reviewing strategic alternatives for the company for the past several months," said Mr. Lonnie Moulder, President and CEO of MGI PHARMA. "During that time, we have had the opportunity to share the MGI PHARMA vision and business opportunity with many of the leading companies in the pharmaceutical and biotechnology industry. This transaction represents the successful conclusion of that process. Our Board of Directors and the management team are extremely pleased to announce this transaction and the opportunity to continue to bring important therapies to patients." Mr. Haruo Naito, President and CEO of Eisai, said, "Eisai has enormous respect for MGI PHARMA's products, pipeline and people, and we look forward to working with their highly skilled team to address the unmet medical needs of patients throughout the world. Strategically, we expect this transaction to allow Eisai to significantly strengthen its oncology business and increase the likelihood of achieving our current strategic plan targets and our future revenue and earnings growth." Under Eisai's "Dramatic Leap Plan" (DLP), its fifth midterm strategic plan which spans from April 1, 2006 to March 31, 2012, Eisai has continued to achieve steady growth in all regions, including Japan, the United States, Europe and Asia, with a special focus on integrative oncology, where tremendous unmet medical needs exist. Eisai has strengthened its oncology research and development and marketing infrastructure in the United States through the October 2006 acquisition of four oncology products and specialists' know-how from Ligand Pharmaceuticals and the April 2007 acquisition of Morphotek, Inc., a biopharmaceutical company specializing in the development of protein and antibody gene evolution technology. In addition, Eisai is building a new oncology facility for manufacturing and formulation R&D at its North Carolina site. The Transaction The acquisition is structured as an all cash tender offer for all outstanding shares of MGI PHARMA common stock followed by a merger in which each remaining share of MGI PHARMA would be converted into the same US$ 41.00 cash per share price paid in the tender offer, except for shares held by stockholders who exercise appraisal rights. The acquisition is subject to the satisfaction of customary conditions, including the tender of a majority of the outstanding MGI PHARMA shares on a fully-diluted basis and the expiration or earlier termination of the Hart-Scott-Rodino waiting period and other regulatory approvals. The tender offer will be subject to the U.S. securities laws and applicable U.S. state laws. To effect the transaction, Eisai has established an acquisition subsidiary Jaguar Acquisition Corp., which is wholly-owned by Eisai Corporation of North America (Woodcliff Lake, NJ). Subsequent to the completion of the tender offer, Jaguar Acquisition Corp. will be merged into MGI PHARMA and the combined entity will then become a wholly-owned subsidiary of Eisai Corporation of North America. Eisai intends to finance the acquisition through existing internal financial resources, as well as bank loan financing, and has secured commitment for the debt required to consummate the transaction. The acquisition price represents a premium of approximately 38.7% to MGI PHARMA's closing share price of $29.55 on November 28, 2007, the last business day prior to MGI PHARMA's announcement that it was exploring strategic alternatives. The acquisition will be effected pursuant to a merger agreement. The merger agreement contains certain termination rights for each of MGI PHARMA and Eisai and further provides that, upon termination of the merger agreement under specified circumstances, MGI PHARMA may be required to pay Eisai a termination fee of $129 million. JPMorgan acted as exclusive financial advisor to Eisai, and Sullivan & Cromwell LLP is acting as legal counsel to Eisai. Lehman Brothers, Inc. acted as exclusive financial advisor to MGI PHARMA in its review of strategic alternatives, and Hogan & Hartson LLP is acting as legal counsel to MGI PHARMA.
Eisai Co., Ltd. (TSE: 4523.JP) ("Eisai") is a listed company at the First Section of the Tokyo Stock Exchange (TSE)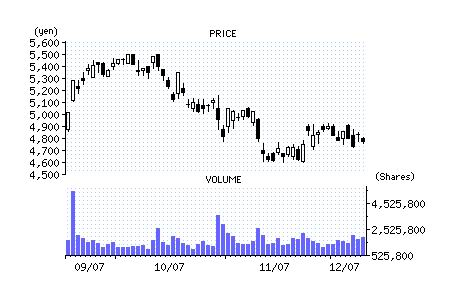 , and will use 300 million dollars in cash reserves and loans to finance the takeover. The purchase is slated for completion in the January-March quarter of next year. MGI's board supports the acquisition. Under its business plan through fiscal 2011, Eisai aims to earn 440 billion yen in the U.S. out of 1 trillion yen in group sales. U.S. sales came to 303.4 billion yen in fiscal 2006, accounting for 45% of total group sales and already surpassing those of Japan.
As of the recent trading, the market did not react favorably to the news about the acquisition as Eisai in an effort to boost its cancer drug operations in the U.S. earlier this year paid 325 million dollars for a local biotechnology firm.
About Eisai Co., Ltd.
Eisai Co., Ltd. is a research-based human health care (hhc) company that discovers, develops and markets products throughout the world. Eisai focuses its efforts in three therapeutic areas: integrative neuroscience, including neurology and psychiatric medicines; gastrointestinal disorders; and integrative oncology, including oncotherapy and supportive-care treatments. Through a global network of research facilities, manufacturing sites and marketing affiliates, Eisai actively participates in all aspects of the worldwide healthcare system. Eisai forecasts group sales of 739 billion yen in FY 2007. More than 50% of the group sales are derived from businesses outside of Japan.
About Eisai Corporation of North America:
Eisai Corporation of North America is a wholly-owned subsidiary of Eisai Co., Ltd. and supports the activities of its operating companies in North America.
These operating companies include: Eisai Research Institute of Boston, Inc., a discovery operation with strong organic chemistry capabilities; Morphotek, Inc., a biopharmaceutical company specializing in the development of therapeutic monoclonal antibodies; Eisai Medical Research Inc., a clinical development group; Eisai Inc., a commercial operation with manufacturing and marketing/sales functions; and Eisai Machinery U.S.A., which markets and maintains pharmaceutical manufacturing machinery. The company is traded in North America stock exchanges
About MGI PHARMA MGI PHARMA, INC. is a biopharmaceutical company focused in oncology and acute care that acquires, researches, develops, and commercializes proprietary products that address the unmet needs of patients. MGI PHARMA markets Aloxi® (palonosetron hydrochloride) Injection, Dacogen® (decitabine) for Injection, and Gliadel® Wafer (polifeprosan 20 with carmustine implant) in the United States. MGI PHARMA directly markets its products in the U.S. and collaborates with partners to reach international markets. For more information about MGI PHARMA, please visit www.mgipharma.com.
Data sourced from official publications; additional content by JKS staff