Impacts on pharma industry
Jouhou Koukai Services LLC (JKS), a global leader in providing regulatory information solutions, information products and related services for the life sciences industries, today announced the full-scale availability of the EU Pharma Impacts (EUPI) – innovative syndicated summaries on the EU pharmaceutical affairs.
Updated on April 29, 2005
Published: Brussels, Belgium and Tokyo, Japan, April 25, 2005
Jouhou Koukai Announces Release of the EU Pharma Impacts (EUPI)
Document: EU Pharma Impacts - click here to visit or read as pdf.
Targeted professionals: in the key regulatory regions of North America and Japan, and for users across the enlarging European Union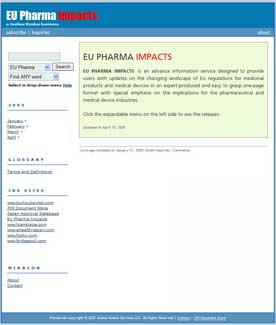 Summary - Unlike legacy systems that simply reproduce published documents, the EU Pharma Impacts is an information service designed to provide users with analytical updates on the changing landscape of EU regulations for medicinal products and medical devices in an expert-produced and easy to grasp one-page format with special emphasis on the implications for the pharmaceutical and medical device industries. Key features of EU Pharma Impacts are:
• Written by experts on EU pharma and pharmaceutical affairs having among them a former head of a National Medicines Agency, executives from European pharmaceutical industry trade organizations and pharma researchers
• EU Pharma Impacts content is delivered both for customers in the key regulatory regions like North America and Japan, and for users across the enlarging European Union
• Each release of the EU Pharma Impacts contains a characteristic highlighted text box describing the impact on the pharmaceutical industry – expected to results from the newly introduced requirements, decisions and activities in the EU
• EU Pharma Impacts are delivered twice a week and appear on the site within 24-hours after publishing of the corresponding documents, statements and press releases by European Medicines Agency (EMEA), European Commission (especially F2 Unit "Pharmaceuticals" at DG "Enterprise and Industry"), European Council, European Court of Justice, European Directorate for Quality of Medicines (EDQM), and other relevant EU bodies
• EU Pharma Impacts are accompanied by largest in the world online English-language Glossary of the terms and definitions related to the EU pharmaceutical affairs
• Additional value-added features are the summaries of otherwise quite lengthy documents, list of the targeted professionals, current and future legal status of the document, links to the original sources and thumbnail of the documents.

Together these solutions help the pharmaceutical professionals outside EU to keep abreast with the key developments and their potential implications. "The release of the EU Pharma Impacts reflects JKS's commitment to the higher information needs faced by our clients today," states Dr. Y. Jeljazkova, Director of the EU office of JKS and head of the group of experts engaged in the production of the weekly releases.

Contact: europe(at)jouhoukoukai.com | Tel: (322)5503688 Fax: (322)5503636

Status: Delivered twice a week. Free web access.
Related Links:
http://europe.jouhoukoukai.com/
http://europe.jouhoukoukai.com/snapshots
http://europe.jouhoukoukai.com/eupharma_products.htm
http://www.jouhoukoukai.com/company/europe_jks.htm
JKS Document Store

Updated on April 29, 2005 | Email inquiries | Orders